A cut of cinema! Exhibition about cinemas architecture in Warsaw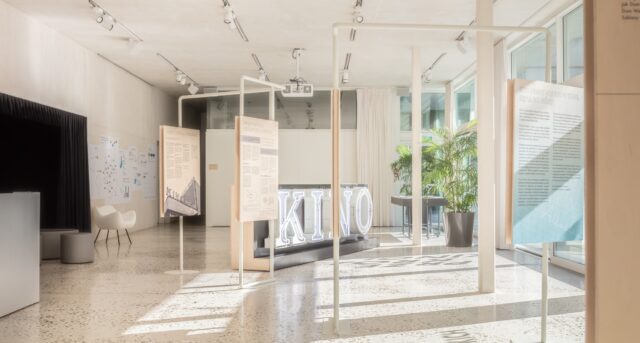 In 2020 Atlantic Cinema was celebrating the 90th anniversary of its founding. It is the oldest still functioning Warsaw cinema. The ZODIAK Warsaw Pavilion of Architecture feature a special exhibition devoted to cinema buildings – "A Cut of Cinema!" (Polish: "Przekrój kino!").
Its aim is to present the architectural transitions of local cinemas in the context of the changing needs and expectations of audiences, reflecting social, economic and technological processes. The Pavilion's space is divided into few thematic areas, including the Atlantic and Iluzjon Cinemas, and the no longer existing Skarpa Cinema, providing the leading motives of each cinema.
On display there are sectional views, floor plans and photographs, with subtle neon light creating a unique atmosphere resembling that of a cinema room.
The accompanying events programme includes cinema history lectures and meetings devoted to architectural issues and national film-making.
Colophon:
Curator: Anna Brzezińska-Czerska with the team: Katarzyna Sałbut, Artur Wosz, Katarzyna Zachara
Exhibition design and execution: Studio Robot (Krzysztof Czajka, Łukasz Wysoczyński) 
Cooperation / visual identity: Lotne Studio (Barbara Sługcka, Julia Wróblewska) 
Production and queries: Anna Brzezińska-Czerska (coordination), Artur Wosz, Katarzyna Sałbut, Katarzyna Zachara 
Text content: Anna Brzezińska-Czerska, Klara Bogusławska, Anna Cymer, Jerzy S. Majewski, Katarzyna Sałbut, Anna Wróblewska 
Substantive editing: Jerzy S. Majewski 
Editing and proofreading: Katarzyna Sałbut, Dariusz Bartoszewicz, Wojciech Kacperski, Anna Brzezińska-Czerska 
Promotion: Katarzyna Zachara 
Partners:Warsaw Branch of the Association of Polish Architects, the Andrzej Wajda Center for Film Culture, Neon Museum, Atlantic Cinema, Iluzjon Cinema, National Film Library – Audiovisual Institute, National Digital Archive, "W małym kinie" 
Media patronage: Aktivist, ARCH, Architektura i Biznes, Architektura Murator, Autoportret, Bryła.pl, Stolica Monthly Magazine